Work Wheels
Work Emotion CR Kiwami 18x8.5 +38mm Matte Black
2013+ FR-S / BRZ / 86
Inspired by the classic Emotion CR design, the WORK Emotion CR Ultimate ("Kiwami") utilizes the latest in WORK Flowforming Technology (WFT) for a lighter and stronger wheel.
Price is for a complete set of 4 wheels
Details
This WORK Emotion CR Ultimate utlizes WORK Flowforming Technology, also known as spun forming here in the U.S.
The key benefit for flow forming is able to reduce the barrel thickness, thus reducing the weight of the wheel without compromising the strength of the rim barrel. The CR Ultimate is a good choice for motorsports racing use and/or general street use.
Unlike our competitors' flow forming wheels, WORK flow forming wheels start with low-pressure cast construction, whereas some of our competitors use lower quality gravity casting.
Low-pressure cast construction has a denser material property over gravity cast wheels, thus allowing a greater strength advantage over gravity cast with flow-forming barrel.
Bolt Pattern: 5x100
Offset: 38mm
Size: 18x8.5

---
Center Caps
Work Wheels Flat Style center caps are available for this wheel. You can make a section for these at the top. Color choice of caps is black, silver, or red and will go great with an Work Wheel.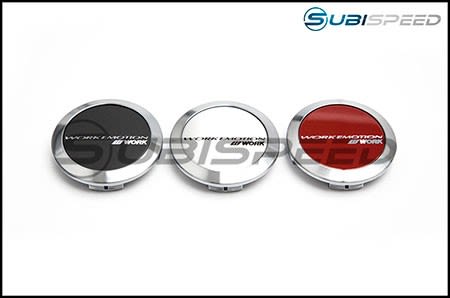 ---
Price is for a complete set of 4 wheels
Note: Careful consideration of wheel width, offset, and tire sizing must be observed when choosing and installing larger wheels. Adding larger wheels may lead to rubbing on suspension components or bodywork. Wheel spacers, new alignment settings, inside fender modifications, or other adjustments may be required. For more information on wheel fitments in general, please contact us!
Upload images for this product