OLM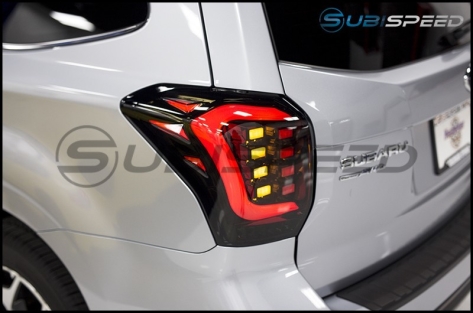 OLM USDM CS Style LED Tail Lights
- 2014-2018 Forester
SKU: 2014-FORESTER-CS-TAIL-PARENT
Make a bold statement with these ultra bright, LED tail lights.
Details
2014+ Forester CS Style Tail Lamps (USDM)
These tail lights are a drastic change from the traditional OEM ones which come from the factory. The JDM wiring has been changed to be compatible with US models and completely plug and play. These are fitted with ultra bright LEDs for a look that impresses and remains safe even behind a smoked lens.
This unique look will definitely make your Forester stick out in a crowd.
NOTE: 2017 model changes to the OEM tail lamp do not allow for the plastic trim piece to be transferred over to the OLM lights. Therefore when the rear hatch is open the backside of the lamp will be slightly visible.
Upload images for this product

Feel free to share pictures of your vehicle with this product!