GCS
Sedan GCS Front & Rear Gloss Black Emblem Kit
2017-2020 Subaru Impreza 4D
Replace the stock blue and chrome Subaru emblem with a black frame and a variety of colored stars. Comes with preapplied 3M resulting in a quick modification.
Sold as a full set. Front and rear emblem inserts AND gloss black frames included. 4D model = Sedan. This product does not work with 5D models (Hatch).
Details
Highlights:
Kit replaces front and rear stock Subaru emblems
4 unique star colors
Package includes clean looking gloss black frames
Quick and easy mod uses pre-applied 3m to install
Affordable way to add style and customization to your Impreza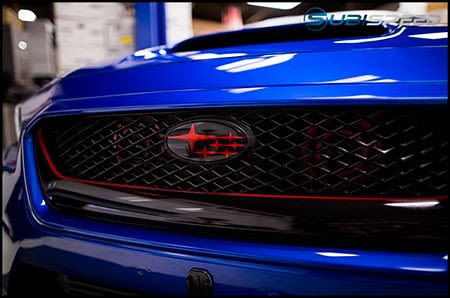 ---
Easy modification to personalize your Impreza's exterior
GCS brings you an affordable way to replace the factory emblems on your 2017-2020 Subaru Impreza 4D Sedan. The stock emblems are fine, however this kit offers a little style and customization to make your Subie stick out. A clear epoxy layer gives the emblem inserts a pleasing gloss appearance. Pre-applied 3M tape on each piece means you'll have this emblem package installed and looking good on your car in no time.
Note:
These are sold as a full set with inserts and frames. 4D model = Sedan. This product does not work with 5D models (hatch).
---
SubiSpeed Install Video (similar product)
Also seen in New Products February 2017 Video
---
Emblem frames included to complete the look
Each set also comes with front and rear gloss black emblem frames. They are exact replicas of the OEM part to ensure proper fit.
Variety of colors to make your car stand out
These emblems are currently available in red, white, blue, and green. Pick out the perfect color to highlight your Impreza and let the compliments roll in. If a product option is not displayed, the item is currently on backorder.
---
Fitment:
2017-2020 Subaru Impreza 4D Sedan
3 customer reviews
Warped plastic and bad adhesives

Terrible Emblems December 2, 2020

By

I had to ordered two of these GCS emblem kits because the rear emblem plastic came warped and wouldn't adhere to the car. I ordered a second kit in hopes it would be fixed however, the second rear emblem came not warped but the 3M tape on the back of the emblem was not strong enough to adhere to the car. Also, the pins that go inside the car are way smaller than the OEM emblems. I wouldn't recommend purchasing theses.

customization

hkjguyyrd June 29, 2020

By

thanks subispeed, great aftermarket mod. install was just as the video showed, was same for 19 impreza sedan. feels good to add personal touch with professional looking OEM similar part.

Looks Good

Derek June 30, 2018

By

Back emblem was very easy and looks great. Front emblem was a little bit of a pain to get off and then when I went to put new one on it wouldn't stick. I needed to put more 3m tape on the car to get the emblem to stick. After that it was good.
QUESTIONS & ANSWERS
No questions have been asked about this product.
Upload images for this product