Option Lab
Option Lab R716 18x9.5 +35 Gotham Black
2013+ FR-S / BRZ / 86 / 2014+ Forester
Every Option Lab Wheel is Made by Enthusiasts for Enthusiasts. They thrive on delivering the latest design, proven manufacturing process, and rigid testing procedure while keeping the wheels affordable.
Note: Clears all STi Calipers
Details
Option Lab R716 Wheels
Changing the wheels will completely change the look of your car. A set of appropriately sized wheels allows the perfect wheel and tire fitment to give your car that aggressive stance without sacrificing drivability. The width and offset chosen for the Option Lab R716 wheel was not randomly picked. While the 9.5 inch wide wheel width features a concave face and allows tires up to 285 section width tires to be fitted, many owners opt for the 245 or 255 section width tires that will be slightly stretched on the wheel to minimize sidewall flex experienced during hard cornering; keep in mind each tire manufacture makes their tire slightly different.
Although the wheels can be fitted on various cars, they engineered the wheels to have several vehicle specific fitments in mind. The 18x9.5 ET35 5x114.3 fits on the 2015+ Subaru WRX / STI (clears Brembo Calipers).
Fit & Finish
While many of their competitors overlook small details like this, they always mask the lug pocket opening on our wheels prior to painting it. You may wonder why this is important. The reason being if there was paint on the lug pocket, then the lug nuts could break the thin layer of paint and they could potentially come loose.
Functionality is important to OL. The Option Lab R716 features a wide lug opening that does not require the use of smaller diameter tuner lug nuts. All of their wheels have a 60 degree tapered lug seat also known as conical seat; if your OEM lug nuts have a flange type seat or ball seat, please source a set of lug nuts with conical seat and correct thread pitch.
All Option Lab wheels are designed to accept most OEM and aftermarket replacement Tire Pressure Monitoring Sensor (TPMS) along with any standard rubber or metal valve stems.
On the Option Lab R716, there are currently two finishes available. The Formula Bronze R716 has a deep bronze finish with a matte clear coat while the Noble Grey R716 features an anthracite/gunmetal finish with matte clear coat.
---
SPECS:
Option Lab R716
Size: 18x9.5
Offset: 35mm
Hub Bore: 73mm
Bolt Pattern: 5x100
Note: Clears all STi Calipers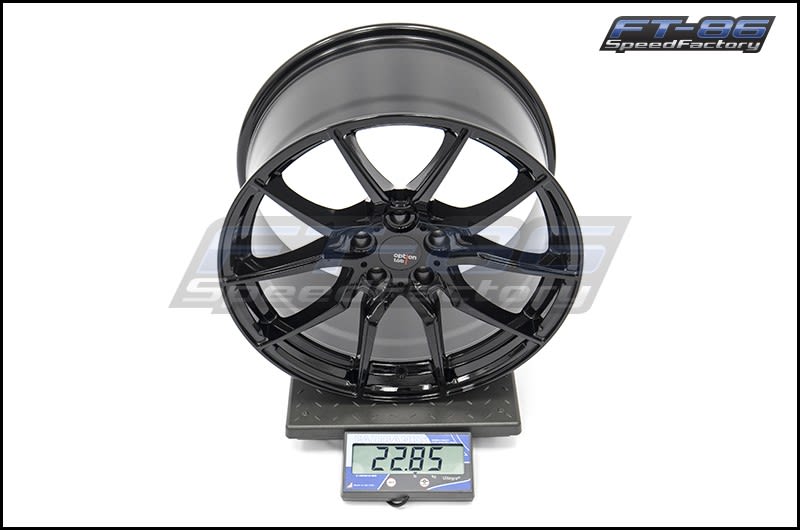 ---
NOTE: Careful consideration of wheel width, offset, and tire sizing must be observed when choosing and installing larger wheels. Adding larger wheels may lead to rubbing on suspension components or bodywork. Wheel spacers, new alignment settings, inside fender modifications, or other adjustments may be required. For more information on wheel fitments in general, please email us!
Upload images for this product