OLM
OLM Retical Style LED Fog Lights
15+ WRX / 15-17 STI / 13-16 BRZ / 13+ Crosstrek / 14+ Forester / 2013-2016 FR-S / BRZ / 86
OLM has a full replacement LED housing for your vehicle. These casings have an extremely wide beam pattern and will last for years! Plug and play compatibility ensures your vehicle will be up and running with these new lamps in no time.
Details
OLM Retical Style LED Fog Lights
---
The goal with these lights is to put brilliant white light on the ground and look good at the same time. Not only are they a straight swap for OEM fog light equipped vehicles (mounting and main beam wise), they are a true upgrade. Stock lamps are simple housings with low output halogen bulbs. Upgrade them now with these full LED lamps.
Another feature of these lights are the DRLs surrounding the top and bottom of the main beam. All together they look great and will compliment LED and HID headlamps.
Each set includes required H11 / H16 socket for plug and play compatibility. They use a single powerful LED. The housings are aluminum and have a heat sink incorporated in the back of the lamp. This ensures the housing is kept to an appropriate temperature which will prolong the life of the LEDs and other components inside. The front of the housing uses a durable high impact material to resist against small impacts from various forms of road debris.
Adjustment screw is present on the rear to ensure the unit is level and outputting light correctly.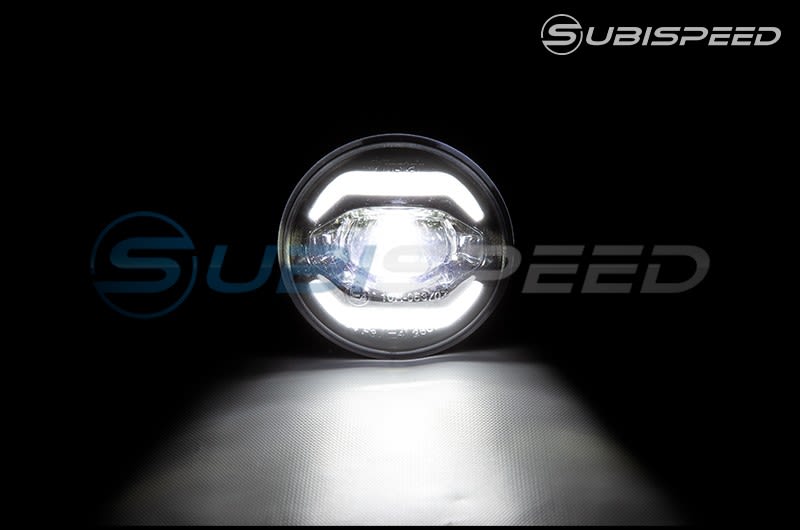 ---
NOTE: PSX24W to H11 adapters required on 2013-2016 BRZ and some 2013+ Crosstrek (without Steering Responsive Fog Lights). Fits 2019+ Forester equipped originally with halogen fog lights.
---
Featured In Subispeed's New Products June Video
---
Installation Notes
Mounting is the same as a the stock fog.
The LED drivers connect to each fog light housings. Main beam plug is plug and play for H11/H16 sockets (most Subarus). The included adapter is for converting to 9005 / 9006 applications.
DRL wiring has one red and one yellow wire. Red wire must be connected to a positive power source for the DRL to function. You can use our DRL harness or even an accessory power wire.
Optional Quick Connect Harness (15+WRX / STI / Other Subaru Vehicles)
SubiSpeed has a quick connect harness to make wiring painless. This makes the install virtually plug and play.
NOTE: If you already have the SubiSpeed DRL harness (base / premium / limited), you already have the proper connections for a quick connect setup.
The installation is the same for the fuse box connection, so please view the video here for more details.
If you want the DRL on this bezel to act like a real DRL (ie turns off when the parking brake is up), choose this harness. It will use both the low and high fuse positions in the fuse box.
Optional Add a Fuse (15+ WRX/ STI)
More details in the additional tab. This is for easy connection to an accessory power point (on with the vehicle).
Upload images for this product