Verus
Verus Two Piece Front Splitter
2013+ FR-S / BRZ / 86
Front splitters are very effective at producing front end downforce without increasing drag significantly by creating a large pressure delta between top and bottom surfaces. The street splitter makes downforce, reduces drag, and improves aerodynamic balance.
Details
Verus Two Piece Front Splitter
Decrease front end lift for your GT86, FRS, and BRZ with our two-piece splitter add-on. By using CFD to aid in the design stage, we were able to balance the car out aerodynamically when in use with our rear diffusers. Produced from a hard plastic, it can withstand small impacts without shattering and is abraded when struck from below. It attaches to chassis and bumper locations via OEM holes and rivet nuts, which are included with the kit. This is a two piece splitter kit and comes with the splitter support rod kit!
---
Construction:
Hard Durable Plastic Body
Stainless hardware throughout
Rivet nut tool included
Design
The splitter went through many design iterations before the shape was finalized. Each analysis was done using a half-car analysis since no yaw testing was completed. This is done using symmetry down the centerline of the car. Significantly less computational processing power is necessary when using a half-car model and was the reason behind this design approach.
The meshing of the car is done using first a surface mesh and then volume mesh. To find a suitable mesh size for the analysis, a grid convergence study was done. A volume mesh count of 10 million cells was considered within the room of accuracy with the turbulence model.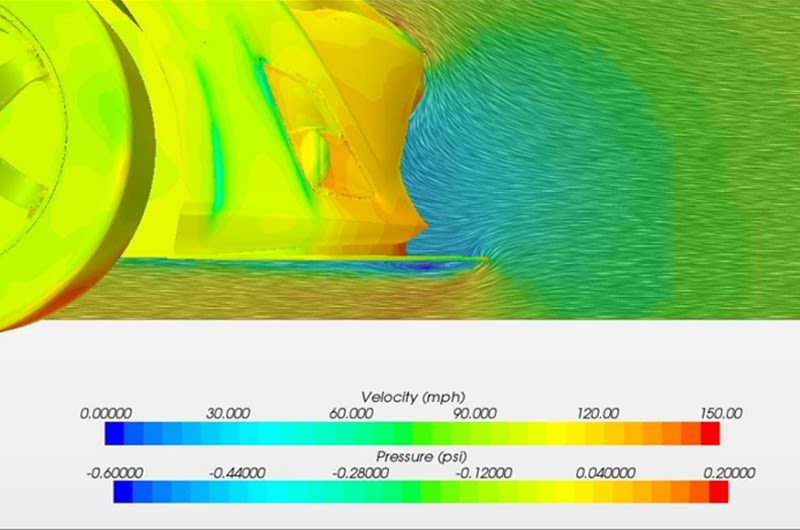 ---
Additional Information
Very few companies perform CFD or wind tunnel analysis on any of their aerodynamic pieces. As a consumer you can rest assure that you are receiving a quality component with an engineering analysis that has proven to benefit the vehicles characteristics.
For additional information you can find it
here.
QUESTIONS & ANSWERS
No questions have been asked about this product.
Upload images for this product