Details
This wing has been recently seen on our black Subaru BRZ. It's had a lot of our customers making inquiries! Now it's available for ordering.
Carbon fiber is known for its sporty look. Expect to capture the attention of your fellow motorists and get questions about your brand new wing. More aggressive than OEM and not as loud as huge GTC style wing, it's a great choice for many enthusiasts.
Specifications
Approximately 54" wide
Stainless steel mounting hardware
Easy to install base, no drilling, simply clamps on to edge of trunk
Weighs ~5.5 lbs
---
Optional Extension Bracket
This extension bracket changes the mounting position of the SARD wing. It moves it back, giving it a slightly altered look.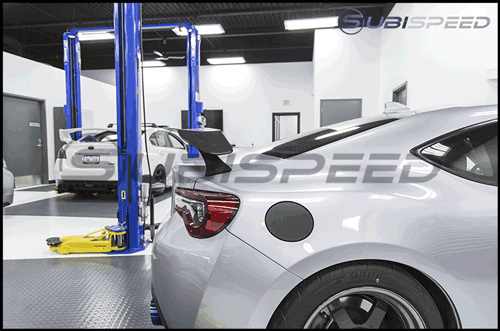 ---
FT-86 SpeedFactory Video
You can see some good shots of this wing in our Valenti video.
3 customer reviews
Beautiful Spoiler

Zeph May 9, 2023

By

While I don't own GT86, GR86, BRZ, or FRS, this spoiler works perfectly on my ND Miata. Very happy over and it's such a gorgeous looking spoiler.

Overall great but 1flaw

Savanna December 28, 2022

By

I've had this wing on my 2020 BRZ for over a year now I love it looks great was glad I didn't have to drill any holes the main issue though is the rubber pieces that keep the wing from scratching the trunk have suffered sun damage so now the wing is scratching my trunk and sliding and from what I could find their is no replacement for that rubber piece so it's either deal with my wing scratching my trunk or buy a new one. Other people I know have had this issue so it would be nice for this piece to be buyable alone.

Pictures don't do it justice.

Stuart August 2, 2019

By

The in person WOW factor of this spoiler is great, especially with the extension brackets. The hex key / nut clamp is a bit finicky and annoying to install on your own but only takes about 10 minutes or so. When looking in the rear view mirror it sits about 1/2 - 3/4 of the way up in your window.
Upload images for this product