SubiSpeed
SubiSpeed MK2 Automatic Flappy Paddle Extensions
2015-2021 Subaru WRX CVT / 13+ BRZ Automatic / 14-18 Forester CVT / 13-17 Crosstrek CVT / 17+ Impreza / 2013-2016 FR-S / BRZ / 2015-2019 Subaru Outback
SKU: ISPEED-CVT-SUBTOY-PADDLES-PARENT
Give yourself a better opportunity to hit your shifter paddles the first time around and add some style to the cabin of your vehicle at the same time.
Details

CNC Shifter Paddle Extensions
Factory shifter paddles give you that race car feel and more control over your transmission vs letting the ECU do your shifting. You can put your car in the right gear as you prepare to make a turn and accelerate out of it. You can also use engine braking to slow the vehicle down.
SubiSpeed paddle shifter extensions make it easier to tap these paddles through their increased surface area. They are anodized and available in four colors. The tops are marked with + and -. Installs with supplied set screws and allen wrench.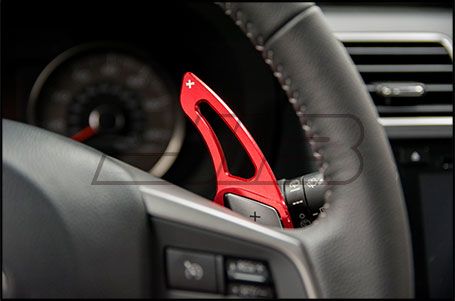 SubiSpeed Video
2 customer reviews
LOVE THEM

Emily January 10, 2020

By

I agree with the other comments, where make sure you have have lots of time to install! Took me a little while to figure it out, and had a friend help out but after all they look amazing and feel great!!

Great quality, but reengineered to make this a 30 sec mod

Dave May 17, 2019

By

Great quality paddles and excellent finish, def a very nice crafted piece. As for installation and my 3 star rating. They're two ways you can go about this. 1. use those super micro screws and allen wrench, which if you have big ass hands and fingers will be a righteous pain in the A** to try an install especially on the sides facing the inner part of the steering wheel "which if you opt to go this route you want to tighten down first", or option 2. I had seen a similar style of these paddles on a WRX You Tubers channel and that company used 3M to mount the aftermarket paddles to the OEM paddles. I opted to take this route i had a ton on acrylic automotive grade 3M so i prepped the backside of the OEM paddles and rubbed them down with isopropyl alchol and then did the same for inside these paddles then applied the 3M in the open gap and, VOILA perfect fitment and secured on there like a rock. To me that was night and day easier then struggling with those tiny scews and trying to quarter turn a tiny allen wrench to tighten them. So IMO if you want to do this the easy way that works and holds like a champ use automotive 3M, if you want the harder and more time consuming way then use the micro screws, but be aware they will dig into the plastic of the shifter paddles.

Well made/Useful

Scott January 6, 2019

By

Install wasn't all that bad. Helps if u turn the wheel so the paddle your working on is at the top. 1st one took a little time but the 2nd went fairly quick. Paddles definitely add some good looks and usability. Granted it doesn't change that its a cvt turbo Forester lol. Note: Allen screws dig into stock paddles so they will be scarred once removed.

COOL!!

Junji October 26, 2018

By

Installed in the WRX CVT Tooling Wagon version (Japanese and Europe version,"LEVORG"). I am satisfied with the high quality. Its also cool and the paddle shift operation has become more enjoyable.

Great looking, and feel even better

David September 13, 2018

By

These are incredibly helpful when shifting, and feel so much nicer than the OEM mini paddles! I had no issues installing them, except I dropped the allen key into my steering column...but I managed to fish it out!

Defiantly recomend

Mark boustany August 27, 2018

By

The product was shipped in relatively a short period of time, sales support where amazing. As for the product it fits neatly over the original shifters, gives a very nice and sporty look and looks well integrated with the style of the car.

Satisfied

Jorge September 12, 2017

By

Great quality, every time you shift ,its always a great feeling, great support and of course a great style to the car . I was really satisfied with the product and satisfied with website legit website, definitely looking to order more stuff and build my frs to make it stance out more. Thank you overall satisfied every time I order something new

Make sure you have plenty of time to install

Michael April 20, 2017

By

Over all great look. Installation is time consuming and tricky especially the inner screws. Like the previous review tighten the inner most screws first then the outer ones. I don't like tape with the other extensions and with the screws that come with this produt I feel they are more secure and will last the longest. Plus when I received my package I got 2 pieces of candy-these gave me the energy to install them without getting tired-Thanks Subie Speed!!

Love it!

Matthew March 9, 2017

By

Love the way these look in my WRX. Really brings out a more aggressive to the car.

Sexy!

Merlin87 March 6, 2017

By

I love the look and additional functionality of these. Easy to install and add the great look.

Excellent quality

Francisco March 1, 2017

By

I just installed this at my car and they look so sexy, the feeling of the paddles is so nice. Its a premium quality product.

Looks Great

Michael March 1, 2017

By

These look great in the Crosstrek. Just a recommendation on install... tighten the inside screws (ones closest to the steering wheel center) and then slide them into place. Once in place, tighten the outer side screws. If you don't do this, you will greatly struggle to get the inside screws tightened.
QUESTIONS & ANSWERS
No questions have been asked about this product.
Upload images for this product