Silver's
Silvers NeoMax Series Coilover
2013+ BRZ
Ships for free in the 48 states
Backed by racing experience and motivated by a desire to help enthusiasts achieve their goals, Silver's has released with NeoMax series for the 13+ FR-S / BRZ / 86 platform. Includes pillowball mounts with front camber plates.
Standard Spring Rate
6K Front / 7K Rear
NOTE:
Current ship times for standard models are as low as 72 hours. (3/13/2018)
NOTE:
Includes upgraded radial bearings! Was a $75 upgrade, but now comes free!
Details
Silver's NeoMax Series Coilover

About Silver's
Silver's was started back in 1999 by a racer tired of the lack of quality suspension on the market. Since then Silver's has grown into a global suspension manufacturer focused on top quality performance suspension with a very affordable price. They understand your dollars are hard-earned, so we have set out to get you the best performance for your dollar.
The NeoMax series offers performance and looks at an affordable price. Being able to dial in your spring rates and not having to wait ages to receive a quality product is what their goal is with this product.
---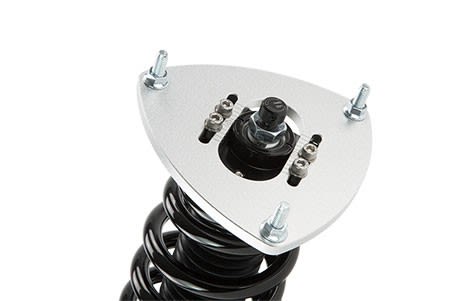 ADJUSTABLE CAMBER PLATES
Silver's camber plates are made from T6 6061 Aluminum and are protected by an anodized finish. They come standard on the front of any McPherson style strut application and are designed to offer up to 3 degree's of camber adjustment at any ride height to dial in your alignment.
PILLOWBALL TOP MOUNTS
Their pillowball mounts are comprised of two main parts: A SUJ2 Steel bearing, and a Chromoly Steel 2 piece case. Pillowball mounts provide bind free operation and precise feedback to the driver.
Standard Spring Rate
6K Front / 7K Rear
---
Standard / Extreme Low / RallyMax
Max out your performance with the standard coilover. It starts at stock height and allows you to drop your vehicle up to 3". Max out your looks on the street with the Extreme Low. The Extreme Low starts with a 2" drop and will lower your vehicle down to the ground! RallyMax will allow you to increase your vehicle's ride height up to 40mm. Great for those off road shenanigans.
---
FULLY HEIGHT ADJUSTABLE
Their coilover's are fully height adjustable via the lower mount with no need to change preload and sacrifice shock stroke. Simply loosening the lower locking ring and rotating the entire coilover you will be able to easily fine tune your ride height or weight distribution for corner balancing on track applications.
OEM FIT STEEL LOWER MOUNTS
Their steel lower mounts are engineered extensively for strength with key area's reinforced. They are designed with all of the features of the OEM system to be sure every brake line and ABS sensor harness is securely mounted. This keeps installation simple and straight forward.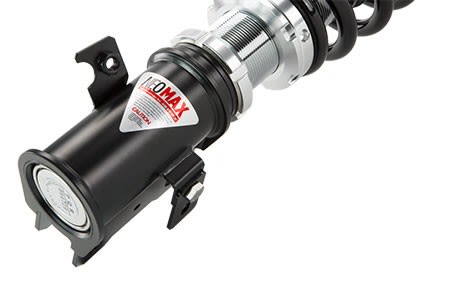 ---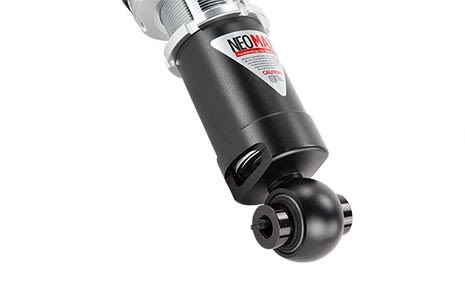 ALUMINUM LOWER BRACKETS
T6 6061 Aluminum lower mounts are used on multilink suspension setups. These are CAD Designed to ensure oem fitment and are lighter than steel components which also help reduce unsprung weight.
---
CARBON STEEL SHOCK BODY
Their shock bodies are made from ultra high strength JIS G3445-STKM13C(DIN2393-ST44-2) carbon steel and are electroless nickel plated for resistance to corrosion and fatigue in harsh climates.
LINEAR PISTON DESIGN
They use a 44mm Linear type piston in our shocks. This style piston gives both excellent track benefits as well as maintains ride quality. Every single shock is hand assembled, and dyno tested to insure dampening and compression valving is within 5% variation from side to side. There is no random inspection or tests, every single shock is dyno tested. In the event the shock fails, the internals are discarded and it goes back to the assembly room.
LARGE HARDENED STEEL SHAFTS
They use the largest diameter necessary hardened steel with chrome plating for our piston shafts. With extensive research and development we have the perfect material and diameter needed to have the proper strength necessary to retain lateral rigidity and not bend or bind under heavy loads, which leads to pre-mature wear and lowering piston travel. Making it the perfect combination of strength and weight savings.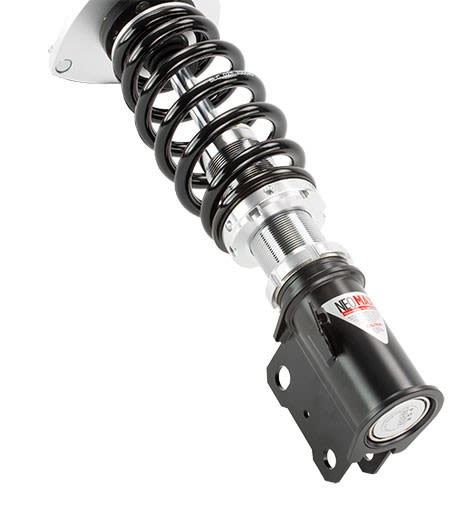 ---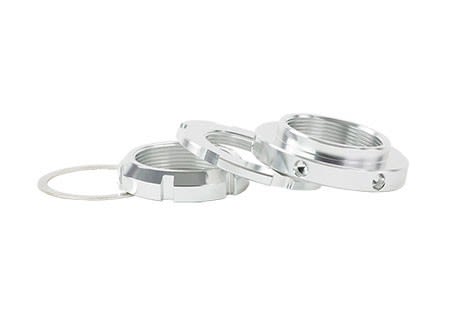 UNIQUE LOCKING COLLARS
Silver's locking collars have a specific unique design compared to the other brands on the market. They perform the same as any other locking collar, though with the lower spring perch having dimples instead of slots you do not have to worry about the top spanner wrench slipping and sliding up or down the perch when making necessary adjustments. This make adjusting the preload much less of a balancing act, leading to quicker and easier installation.
---
Optional Upgrades
RADIAL BEARINGS
Made from T6 6061 Aluminum using the best Koyo Japan bearings Silver's Radial Bearing upper perch (McPherson applications only) allows the springs to twist freely as they are compressed. As a spring compresses it may twist slightly which can produce a small noise as if the springs are binding. The same noise also occurs on McPherson applications when the wheel is turned and the spring binds. Radial bearing upper perches will allow the piston shaft and tophat to rotate separately from the spring and shock body allowing for a smoother and quieter rotation.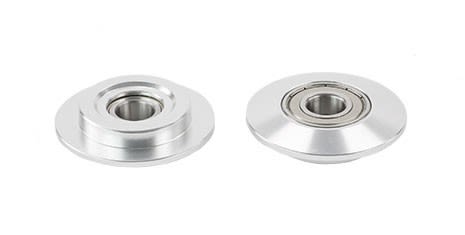 ---
REAR ADJUSTMENT EXTENDERS
Certain vehicles require some interior panels to be removed in order to reach the dampening adjusters. The dampening adjuster extensions can be used to relocate the adjustment know to a easily reachable location for those quick on the fly adjustments.
---
Featured In FT86SF's New Products April Video
Upload images for this product