CG-Lock
CG-Lock Seat Belt Lock Out for Performance Driving
Get the performance you need out of your standard seat belt for spirited drives, HPDE, and autocross events. Purchase 1 or a pair for you and your passenger.
Details
CG-Lock Seat Belt Lock Out
---
No Harness? No problem.
Tired of sliding around your seat when pushing your vehicle to the limits? Not ready to install full on race harnesses in your vehicle? The CG-Lock is for you. This device installs in minutes and helps you cinch down your lap belt with ease.
The CG-Lock gives you about 80% of the holding power of a full race harness.
Featured in $1000 Product Showdown
Why do people use a harness?
You don't need to "hang on" when driving hard...you can keep your feet light on the pedals and your hands light on the wheel for better driving control, faster reactions, and less fatigue.
You are "one with the vehicle"...you can sense the vehicle movement better, react sooner, and "feel" your way through the tricky spots more easily.
Your safety is increased.
Your hips are your body's center of gravity. Tightly help hips provide the first two of the three benefits of a full harness as described above. As for the 3rd benefit-increased safety- the CG-Lock is not sold as a safety device, but it has been designed and fully tested to not interfere with a seat belt's safety.
---
Will the CG-Lock fit every car?
No. The CG-Lock does NOT fit all cars. It does however, fit most cars. The CG-Lock is designed ONLY for use with specific factory-installed (OEM) standard three-point lap/shoulder harnesses with single pass seat belt tongues.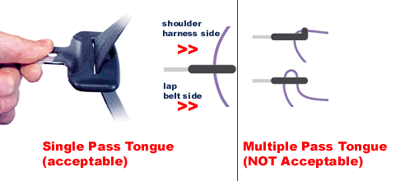 Upload images for this product