OLM
OLM LED Hyperblink Module
2015-2021 Subaru WRX & STI / 2013-2021 FR-S / BRZ / 86 / 2014-2018 Forester / 2013-2017 Crosstrek / 2012-2016 Impreza / 2010-2014 Outback
LED technology usually has less current draw than the halogen bulbs they replace. This causes the turn signals to "hyperblink" or blink really fast. We have a PLUG AND PLAY replacement module that will prevent this. No modifying stock wiring, splicing, cutting, or used of resistors.
Only 1 required per vehicle. If you already have this module installed, you do not need another.
Details
LED technology usually has less current draw than the halogen bulbs they replace. This causes the turn signals to "hyperblink" or blink really fast. We have a PLUG AND PLAY replacement module that will prevent this. No modifying stock wiring, splicing, cutting, or used of resistors.
Only 1 required per vehicle. If you already have this module installed, you do not need another.
Location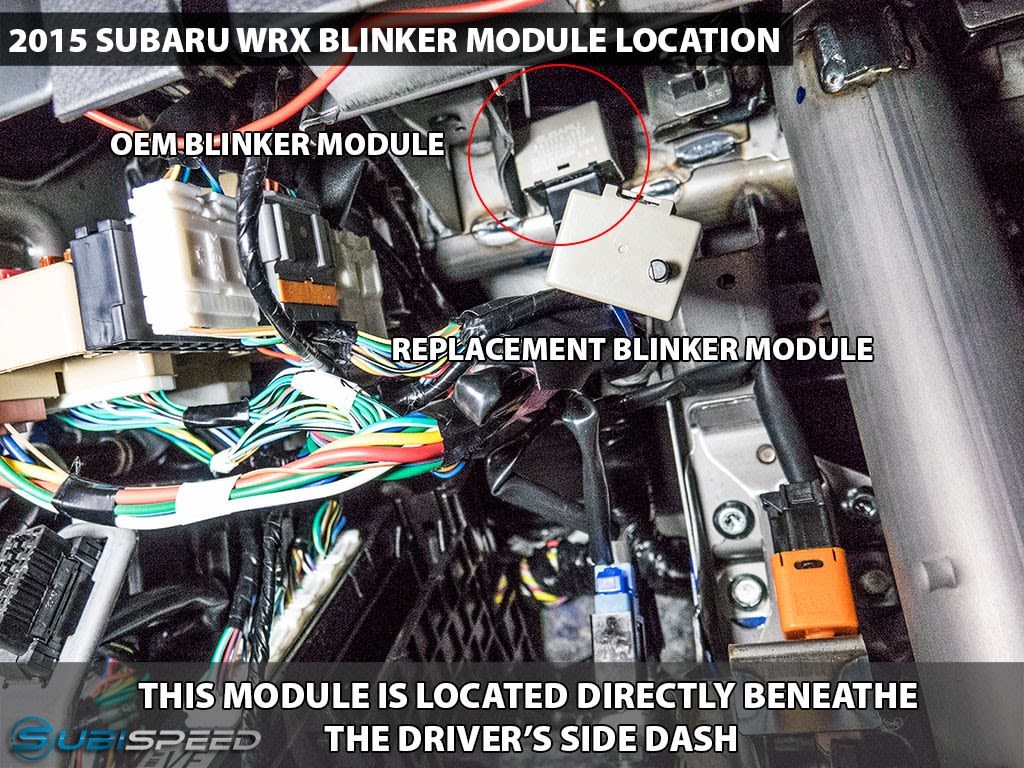 20 customer reviews
2020 wrx sti base

Mark April 11, 2023

By

I installed sequential headlights on my car and ran into the hyperblink problem. These definitely fixed that problem. 10/10 recommend.

'21 STI Limited - Works perfectly!

Joe March 27, 2023

By

I was a bit hesitant at first because of the old reviews saying there is a delay, but that seems to be worked out...possibly with an updated part. I have no delay whatsoever with this module. Paired this with the OLM turn signals for the front and everything worked like a charm! Highly recommend this! Pro Tip - you will see some videos online about removing the stock module while the white clip is still mounted under the steering column. Do yourself a favor and just pull straight down on the module (white clip and all) and transfer the white clip to the new module. It takes some tugging, but it will come off clean and unbroken. You'll need a tiny flat head or something small to unclip it from the stock module and it's nearly impossible to do while it's in place under the steering column. After everything is transferred and the wiring harness is plugged in the new module, firmly push it back up into the mounting hole under the steering column and you're good to go.

Simple and works

Brandon November 23, 2022

By

Did exactly what I needed it to do, plug and play, nothing else

WORKS PERFECTLY NO DELAY EITHER

Kelvin October 3, 2022

By

Not sure if they updated these but my turn signals have NO DELAY whatsoever. They work PERFECTLY 👌. No need to remove any panels either! Just pulled the seat back and lay on the floor facing under the steering wheel/dash. Was literally a 5 minute install, just carefully twist and pull the stock one off to not break the holding bracket. You'll figure out the rest.

Fixed the Problem Perfectly

Drew October 2, 2022

By

This module solved the issue and added a tap-to-turn feature my WRX never had previously. It was a bit of a pain to install only because the area to work in under the dash is limited in space for your hands to fit. That was the most difficult part, but it's literally plug-and-play once you install it.

Works great!

OneEightyAuto May 4, 2022

By

I noticed several reviews mention the delay issue and it seems they were all from years ago. I just installed this today (2021 WRX) and I don't have issue with blinker delay or anything. It's either been addressed, or perhaps it's a model year issue. It was a PIA to get into position under the dash to install it though.

Great and easy to install

ALEX100909 January 16, 2022

By

Awesome product ,and great solution

excellent product

alain November 16, 2021

By

hard to remove the old one but the replacement works fine hardly recommend .

Quality product, worked well and as intended

Trockwarren September 27, 2021

By

I had recently installed some LEDs for my low beams and fog lights which caused a hyperblink issue. This module fixed it right away without much effort put into it. The plastic clip keeping the OEM module in place can be really tough to get out, but shouldn't take any longer than 10 to 15 minutes. There also is a fraction of a second of lag when you first use the turn signal, unlike the OEM signal.

Worked well

AJ January 16, 2021

By

Worked as advertised, was kinda a pain getting the old one unplugged and good luck if you have bigger hands but once it was plugged in it worked fine, did exactly what it said it would

What is everyone talking about?

Jason October 17, 2018

By

I bought this because I needed it after going full LED. After reading the reviews here (and other places) I was a little annoyed that people consistently talked about this being a pain to install, but it needed to be done anyway. What the heck is everyone talking about??! This literally took me 45 seconds to install. Simply position the steering column up and look under it. There it is. Disconnect the plug. I used a jewelers screwdriver to release the securing tab, then slid the module out. Then simply slide the new module in and plug it in. Super easy (and works great, too!).

Did the job

Megan February 5, 2018

By

Fixed my hyperblink issue. Pretty easy install; the only difficult part was unplugging from the original module. However, when I turn my blinker on now, it stalls for a second before blinking.

Simpler install

Cody January 14, 2016

By

Just installed mine and if you pop the trim piece off of the left side of the steering wheel you can get right to it. First you will need to pop off the small curved piece on the side just inside the door jam. There will be 1 Phillips screw to remove and you can pull the lower dash cover off and get right to the module. A small seal pick will slide right in the slot to release the original module from the clip, just look at the new one to see how the clip works. It's still not the easiest thing you can do but definitely easier than trying to stand on your head or dislocate joints to do it. Hope this helps.

Works well but

Harvey November 25, 2015

By

The product works well but it's a pain to install. I had aftermarket alarm with remote start. So where the relay was located is a bit of a tight squeeze. I was able to install it anyway. But then there is a significant delay when activating the turn signal. It's not really appealing to me but I can get used to it. Also, my module didn't come with a dial to adjust the blink rate. It's pictured above so I was expecting it will come with the dial. Not really a deal breaker for me. I was just expecting the product will come as pictured above. lol

the new blink hard to get used to.

scott September 30, 2015

By

this item is great because it does stop hyper blinking, but BE PREPARED from now on there will be a significant pause before the signal starts to blink and this will cause your friends to tell you your back light is out until they realize it was just paused. soo be aware the pause when you turn from now on, if there is a fix for this PLEASE LET ME KNOW! however the whole light upgrade is great!

A Must

Davon September 11, 2015

By

Love this Mod, it was a little bit of a pain to locate and just a bit of time to install. But once it is in :) forget about it! Bust bang for your Buck. Definitively need this for LEDs ( unless your into the whole hyper flash) LOL

It works but.....

ryan August 4, 2015

By

Install was very easy, the only thing that drives me nuts is that it has a lag with the first blink. when you push the directional toggle down or up to operate the lights. the turn indicator and lights will stay on for about 2 secs then start to blink. To me the operation of the unit needs to be like factory which its not. I don't want others to know I have aftermarket lights or equipment. I want it to act and look like a factory setup

A must have!

H20SOL February 14, 2015

By

This is a must have if you're going to convert to the LED turn signals. Way too difficult for me to stay upside down for an extended period of time so I neatly secured mine near the OEM module Signal rate control is neat! The first blink is a bit slow but it add character! Enjoy!

PITA to install, but it works as intended.

Stacy January 6, 2015

By

There are a 3 clips on the connector which lock it in the factory module One of these tabs can't be reached without removing the OEM module. The OEM module is locked into the dash by a white push lock clip. It very hard to get it out, but with enough force it will pop out. Once you get the OEM module loose, use a small flat head screwdriver to push the 3rd tab of the plug down and pull it out. The clip can then be removed from the OEM module and transferred to the new hyperblink. Then simply clip it back into place. I found this job is much easier if you dislocate your neck and shoulder first.

It works well.

invisusAG November 25, 2014

By

This wasn't too difficult to install, a little bit of a tight squeeze to reach it, but the picture shown above is very accurate. There is a delay in the first few seconds of starting the blinker, but overall it works as its supposed to.
QUESTIONS & ANSWERS
No questions have been asked about this product.
Upload images for this product