Perrin
Perrin Trunk Pull Handle
2013+ BRZ
Trunk pull handles are showing up in a number of cars, but it's absent from the 2013+ FR-S / BRZ / 86. Give yourself something to grab on to so you don't have to leave fingerprints on your paint or even worse... scrape dirt and mud across your clear coat.
Details
Perrin Trunk Pull Handle
The PERRIN Trunk Handle, add it to the interior of your trunk lid and never have to grab its dirty exterior to close it again!
Check out our do it yourself video.
FT-86 Speedfactory's Install Video
---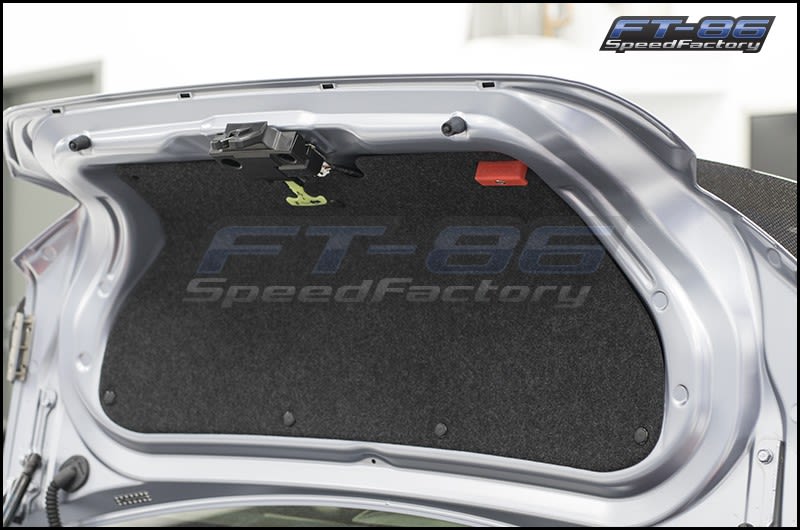 ADDING WHAT SUBARU FORGOT
The PERRIN Trunk Handle is exactly what it sounds like it is: it's a handle for your trunk lid. Since the inside of the trunk lid is flush and has nothing to grab onto, there is nothing to use on the inside to close the trunk. Rather than closing it by touching the oftentimes dirty exterior of the lid, just bolt on the PERRIN Trunk Handle to the interior of the trunk lid to use to shut it while keeping your hands clean.
3 customer reviews
Well engineered, good fit

btrunner April 1, 2018

By

Install instructions very clear. I like that a spare clinch nut is included. Fit perfectly on my 2017PP BRZ. TIP: as noted in instructions, very important to have a drill stop to keep from damaging trunk exterior sheet metal. I used a piece of thick heater hose slid over drill bit, cut so that no more than 1/4 inch of drill bit was exposed. Could also use pvc or drip line tubing. Go slow and be careful not to make hole too big for clinch nut

Keep it Clean

Kyle November 11, 2017

By

The supplied instructions are ok but the video on the site really helped ease the initial worry I had with drilling into my new vehicle. Install was fairly easy and straight forward however you will need a 25/64" drill bit (not supplied) to complete it, so consider that additional cost if you don't already have that drill bit. Very nice reasonably priced practical addition that keeps your paint safe and your hands clean.

Useful

Alejandro July 21, 2017

By

it's instaled in 15min, looks great and it's useful
Upload images for this product