RSR Suspension
Ran-Up Engine Oil/Engine Optimizer 300ML
- Universal
100% synthetic engine oil, specially designed for Diesel Particulate Filters (DPF) and Three Way Catalytic converters. Any car powered by turbo Diesel direct injection or gasoline engines, EURO IV and EURO V emission regulation compliant. (Mid-SAPS) Packaging 1 Liter (1.06 Quarts) NOTE: Oil is classified as hazardous cargo and currently may ONLY be shipped via GROUND. We cannot ship it to our international customers at the moment
Details
RAN-UP ENGINE OIL/ENGINE OPTIMIZER 300ML
RS-R RAN✩UP enhances engine efficiency at the microscopic level. Utilizing key components that have been derived from aerospace robotics, this specially formulated mixture of nano ceramics reduces friction throughout all oil-lubricated pares of the engine. This creates an environment where ending performance can reach its maximum potential.
The numbers don't lie… RS-R RAN✩UP produces real Dyno proven power!
The one that we sell on our site is for car applications, not motorcycle applications.
---
Benefits of Ranup
Reduced friction, less parts wear
Increased Horsepower & Torque
Improved fuel mileage
Reduced vibration
Reduced oil consumption
Reduced oil temperature
---
Dyno Test Results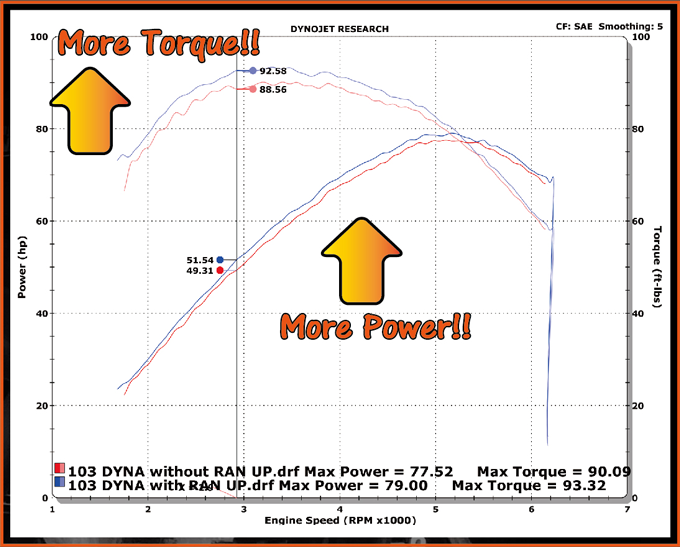 Upload images for this product

Feel free to share pictures of your vehicle with this product!