Chemical Guys
Chemical Guys Lightning Fast Carpet and Upholstery Stain Extractor 16oz
Chemical Guys blended the all new Lightning Fast Stain Extractor with advanced cleaning agents that penetrate deep, dissolve stains, then emulsify dirt and debris to the surface.
Details
LIGHTNING FAST CARPET & UPHOLSTERY STAIN EXTRACTOR
Why Buy This Product?
Cleans fabrics in a flash of lightning!
Spot and stain remover
Strong cleaning agents for tough stains
Use as stand-alone cleaner or as pre-treatment for carpet extractor
Removes coffee, mud, dirt, juice, wine, grease, oils, and pet stains
New Hyper-cleaning formula rapidly and thoroughly removes stubborn stains from fabrics, upholstery, door panels, carpets, and headliners
New formula lifts and separates dirt and odor particles - leaving behind a fresh and clean car interior
Two products in one: New formula cleans and deodorizes at the same time
---
---
How It works
Mistakes and spills can happen in the blink of an eye, but the stain can remain for a lifetime. Chemical Guys Lightning Fast Stain Extractor is the super-powerful spot and stain remover for fabrics, upholstery, and carpet. Use Lightning Fast to destroy tough spots and stains from dirt, grease, coffee, soda, wine, and pets. The all-new formula quickly cleans fabric, carpet, and upholstery. Lightning Fast is boosted with stronger cleaning agents to take on even tougher stains, odor elimination properties to destroy foul smells at their source, and anti-bacterial enzymes that disinfect as they clean. Lightning Fast works great as a stand alone product, or as a pre-treatment step for hot water carpet extraction. Simply spray Lightning Fast on the stain, agitate with a brush, then wipe off any residue with a microfiber towel. Lightning Fast is designed to remove the toughest stains from carpet and upholstery. The stain extracting formula removes dirt, mud, coffee, juice, and pet stains easily and safely. The most stubborn stains are lifted from the surface without affecting the color or the feel of the carpet and upholstery. Lightning Fast leaves carpet and floor mats looking like new with no sticky residue. The innovative cleaning formula effectively cleans away stains with less effort. Say goodbye to stains with Lightning Fast Stain Extractor.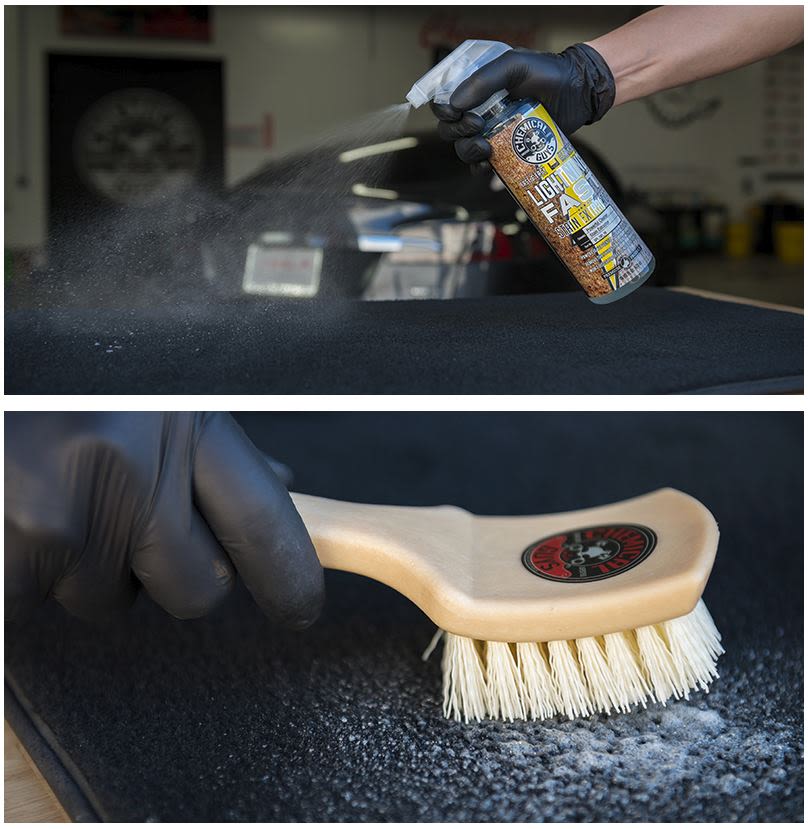 ---
Advanced Cleaning Agents
Cleaning fabrics, carpet, and upholstery can be a daunting task. Chemical Guys blended the all new Lightning Fast Stain Extractor with advanced cleaning agents that penetrate deep, dissolve stains, then emulsify dirt and debris to the surface. The advanced cleaning formula is tough on spots and stains, yet gentle on fabrics and dyes. Lightning Fast works hard so you don't have to; simply spray, agitate, then wipe up. No need for hard scrubbing and brushing to remove set in stains, dirt, grease, or grime. Use Lightning Fast to clean fresh or set-in stains on carpets, fabrics, or upholstery.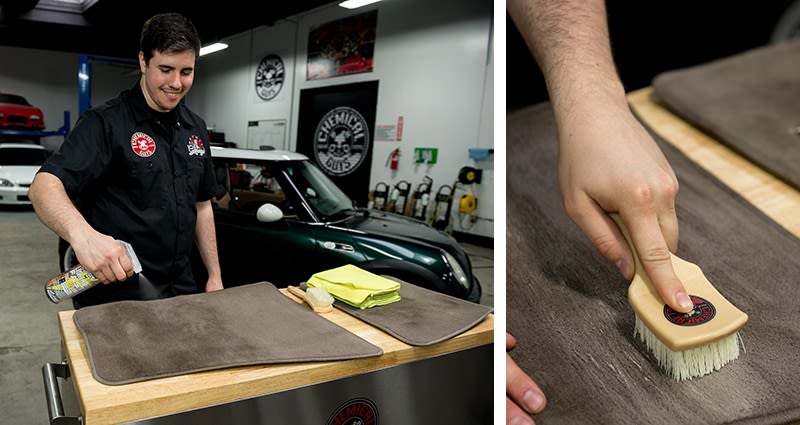 ---
Versatile Formula
Lightning Fast works hard across light and heavy stains. Simply spray on light stains, agitate, then wipe away. For heavier stains, pretreat with Lightning Fast, scrub vigorously, then use a hot water extractor for deep and thorough cleaning of dirt, grime, and set-in stains. Lightning Fast is concentrated for strength and can be diluted up to 20:1 with distilled water. Use Lightning Fast Stain Extractor throughout the automobile or home. Use Lightning Fast on cloth seats, carpets, upholstery, headliners, seat belts, and more! Lightning Fast also works great on rubber surfaces. Use Lightning Fast to clean white walls and white emblems on tire sidewalls, or the soles of your favorite running shoes or sneakers.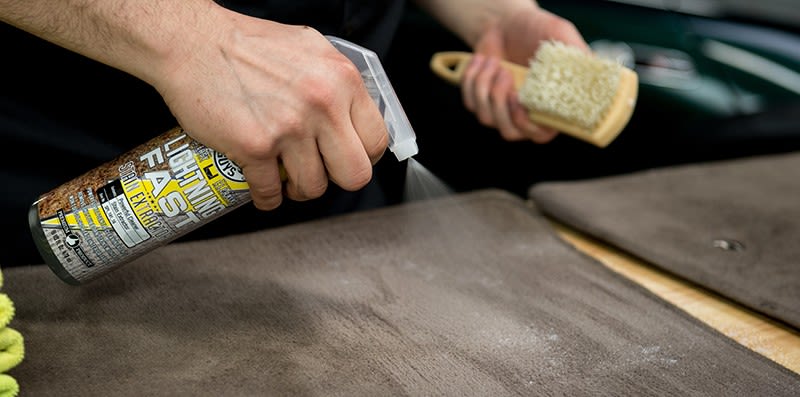 ---
New Odor Eliminator
Stains are unsightly and last for years, and they stink. Literally! Staining agents like food can rot, rancidify, curdle, or ferment, putting out foul odors and putrid stench. Proper cleaning physically removes the odor-causing molecules from fabrics and upholstery, taking the smell away with them. For those left behind, Lightning Fast is blended with odor-eliminating enzymes that physically destroy and kill odor-causing bacteria and germs. These enzymes destroy odors at their source, leaving behind a fresh, naturally clean scent.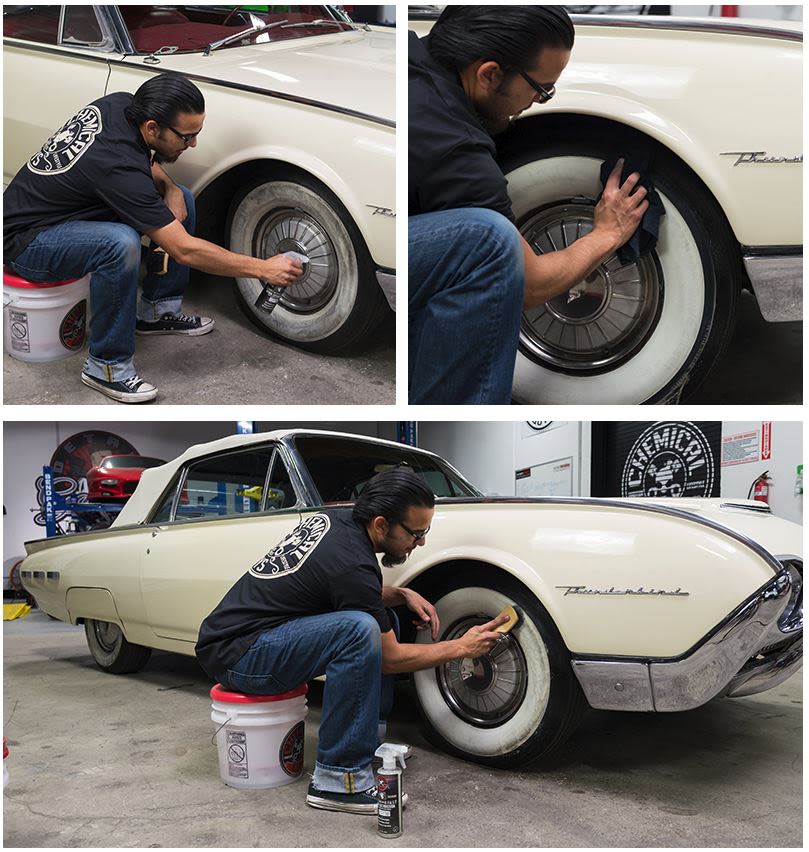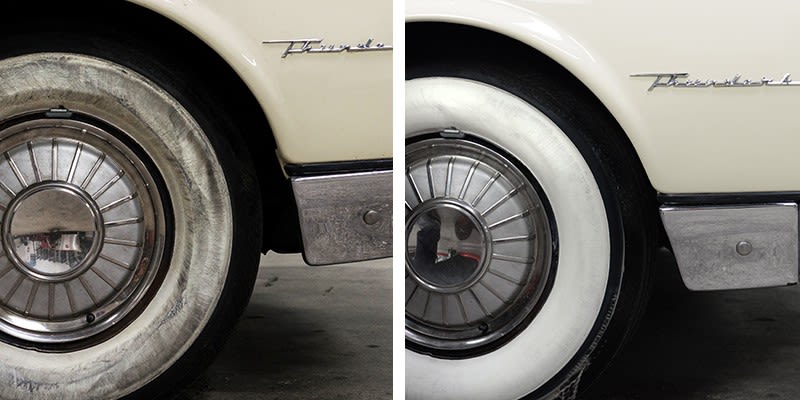 1 customer review
Does what it's supposed to do

Cade January 18, 2017

By

This stuff works and works good. I used it to remove multiple dark grease stains on the grey headliner in my forester, the bottle says to dilute the solution but i sprayed it directly on the stain then rubbed it in circles with some shop towels and that was it. Within minutes the stains were gone!
QUESTIONS & ANSWERS
No questions have been asked about this product.
Upload images for this product