Details
Tein Flex A Coilover System with Hydraulic Bump Stop
Specifications
Full-Length Ride Height Adjustment Feature - Ride Height Adjustment with Little or No Change in Ride Quality
Twin-Tube Structure - For Low Resiliency & Securing Sufficient Stroke
Damping Force Adjustment System - 16-level Linear Damping Force Adjustment System
Complete Kit with Upper Mount - Exclusively Designed Upper Mounts are Included (Except Some Models)
1-Full-Car-Kit - Complete Suspension Kit of 4 Shock Absorbers & 4 Springs
These coilovers are the result of expert research in technology and manufacturing. Your vehicle and wallet will benefit from Tein's efforts!
---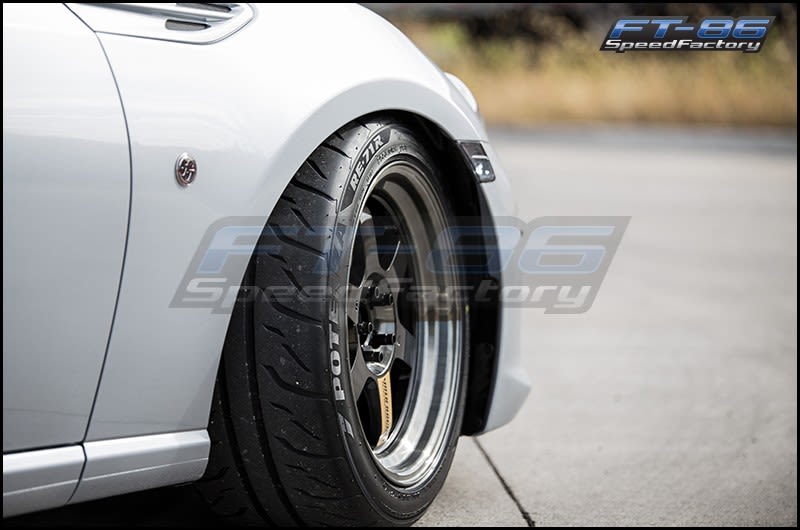 Height Adjustable Range
Base Ride Height Drop: Front -1.2 inches, Rear -1.2 inches
Max Low / Hi: Front -2.3 inches to 0 inches, -3.0 inches to 0.6 inches

Recommended Low / Hi: Front -1.6 inches to -0.8 inches, Rear -1.6 inches to -0.8 inches
Spring Rates
Front: 6K
Rear: 6K

---
New Feature Hydraulic Bump Stopper (H.B.S.) Provides Comfortable Ride in ALL Seats Even at Full-Load
FLEX A is equipped with new feature "Hydraulic Bump Stopper (H.B.S.)" which has been tested and proven effective in the world's harshest motorsports including World Rally Championship and European Rally Championship. When a lowered vehicle goes over big bumps, urethane or rubber bump stopper often causes a big upward jolt and/or rebound and can disturb controllability. On FLEX A, H.B.S., mounted inside the shock absorber, effectively generates damping force near and/or at full-bump, to absorb big impact smoothly. Comfortable ride in the 3rd seats of minivans can revolutionize the industry.
Technology Derived from World's Rally Races

Hydraudlic Bump Stopper (HBS) Mechanism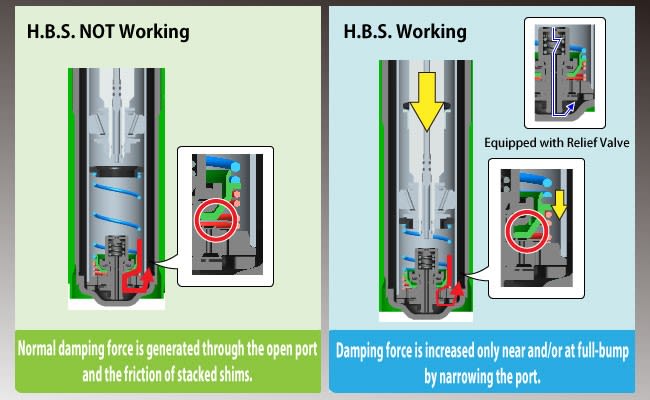 When Hydraulic Bump Stopper is not actuated, as shown in the left image, the valve (green part) is floating and is not blocking the oil flow through the base valve. Damping force is generated just as same as the shock absorber without H.B.S. through the base valve port and the friction of stacked shims. Once the piston rod strokes further than the certain point, as shown in the right image, the valve is pushed down to activate H.B.S. The port is made narrower, limiting the oil flow, to generate high damping force only near and/or at full-bump.
The relief valve installed suppresses the sudden rise in damping force, when the inner pressure exceeds the certain level.
By changing the components, operating point and/or damping force specification of H.B.S. can be modified, to optimize the settings for wide variety of vehicle models.
Effect of Hydraulic Bump Stopper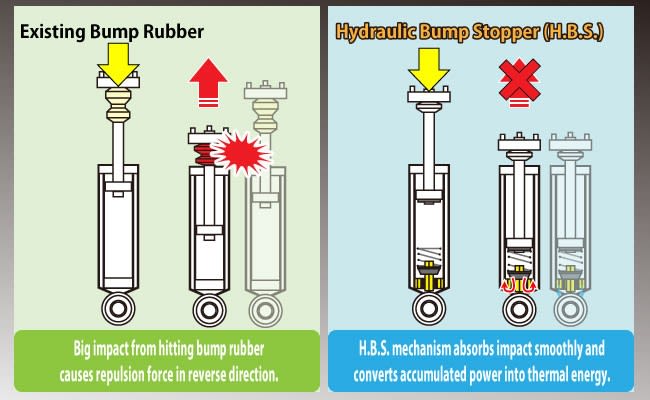 Ordinary shock absorbers have to have bump rubbers to avoid damages from bottoming out. Impact from hitting the bump rubber is huge and the energy accumulated by compressed rubber is released as repulsion force, causing unstable behaviors. With H.B.S., such impact is absorbed and converted to thermal energy inside the shock absorber, minimizing the shock and eliminating repulsion force.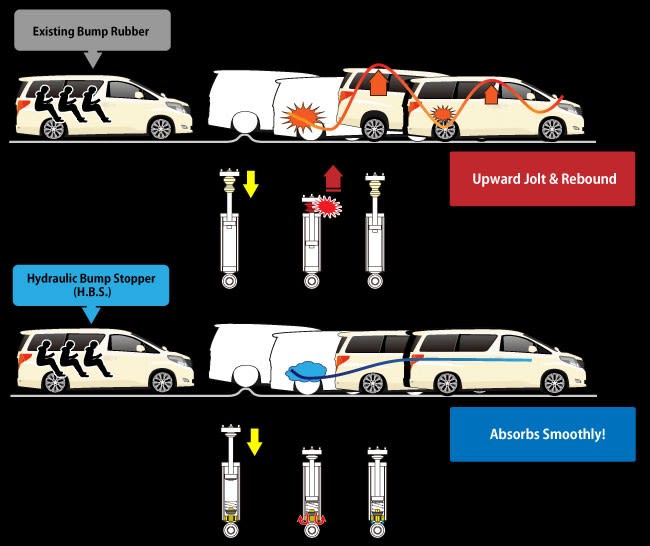 How does H.B.S. actually work on the vehicle? With the existing bump rubber, the vehicle suffers from strong upward jolt as going over bumps then is bounced up repeatedly. It takes a while to stabilize such behavior, resulting in unpleasant ride feel.
On the other hand, Hydraulic Bump Stopper (H.B.S.) absorbs such impact smoothly to avoid being bounced up. It only takes a short period of time to stabilize the vehicle. This reduces uncomfortable impact when going over bumps to stabilize the vehicle behavior and improves ride comfort in all seats even on fully-loaded minivans.
Twin-Tube System for Comfortable Ride on Streets
Considering the use of larger tires/wheels and the lowered ride height, FLEX A uses twin-tube system, in pursuit of ride comfort on streets.
In order to maintain the ride quality on streets with rough spots here and there, a shock absorber has to have sufficient stroke, be low-frictional and move smoothly.
As an oil chamber and a gas chamber are not arranged serially in a twin-tube system, it is easy to secure enough stroke. Also, low gas pressure keeps friction low.
Its smooth stroke movement makes it possible to follow rough and bumpy road surfaces quite well, offering supple ride at low speed and stable ride at high speed.
Full Length System for Ride Height Adjustment with Minimal Change in Ride
Full-length ride height adjustment system, used for FLEX A, enables adjustment of ride height by adjusting the case length, without changing the damper stroke length and/or spring pre-load. This has the advantage that the change in ride quality is kept minimal when the height is adjusted.
This system not only makes it possible to maintain good balance between the low-down appearance and ride comfort, but also provides more setting choices for sport driving as well.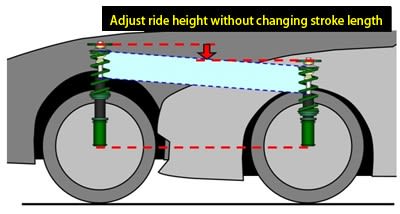 Damping Force Adjustable to Change Ride to Desired Settings!
FLEX A has ever-popular 16-level damping force adjustment (comp./rebound together) feature with the use of needle valve. By turning the adjustment knob, damping force (stiffness) is adjusted linearly step by step, to change the ride and handling of the car to suit driver's needs/preferences.
Use of well-reputed "ADVANCE Needle" at the needle valve for oil flow control secures sufficient damping force adjustable range.
Whether it's for the handling characteristics of sport driving or for the ride quality according to numbers of passengers, finding the most desirable setting is easier than ever.
Compatible with EDFC Series to enable In-Car Damping Force Adjustment
With EDFC (Electronic Damping Force Controller) series installed, damping force can be controlled from the cockpit with ease. Stepping motors attached in place of adjustment knobs control the damping force quickly and accurately.
Use of EDFC turns 16-level adjustment into finer 32-level or 64-level adjustment mode (64-level only available with EDFC ACTIVE / EDFC ACTIVE PRO), to provide the optimum performance by fully utilizing the damping force adjustable range drastically widened by the use of "ADVANCE Needle".
With EDFC ACTIVE / EDFC ACTIVE PRO, damping force can be controlled automatically according to changes in G-force and/or vehicle speed, to offer very smooth and slick ride like never before. (Some models are NOT compatible with EDFC series.)
Upper Mounts Included for Easy Installation!
FLEX A kit includes upper mounts exclusively designed for each vehicle model; either reinforced rubber mounts or pillow ball mounts. Pillow ball upper mounts for front strut suspensions have camber adjustment feature.
Highly Durable & Reliable!
After many years of research and study, TEIN has developed optimally-shaped dust boot made of most suitable material. Elastic & highly-durable dust boot effectively prevents damages to the piston rod and foreign substances from getting inside the shock absorber. (Some vehicle models use OE dust boots.)
Upper Mounts Included for Easy Installation!
FLEX A kit includes pillow ball upper mount camber plates for the front for easy adjustability.
Highly Durable & Reliable!
After many years of research and study, TEIN has developed optimally-shaped dust boot made of most suitable material. Elastic & highly-durable dust boot effectively prevents damages to the piston rod and foreign substances from getting inside the shock absorber.
Final assembly of shock absorbers is done in the clean room, which is almost equivalent to operating room. Room pressure is kept under control to shut out dust & dirt and all workers entering the room must take air shower, to make sure all the assembly work is done in completely clean air, in order to maintain higher level of accuracy and reliability.
Thoroughgoing Rust-Proofing!
Upper mounts and lower brackets are coated with rich TEIN green powder paint. This powder paint has high coating film strength, is highly durable yet is low-pollution due to non-use of harmful solvent. After the shot blasting pre-treatment, the patented "2-layer/1-bake" treatment using anti-rust powder paint is applied for superior durability and high corrosion resistance. (Patent No. 4347712)
On shell case, TEIN's self-developed one-of-a-kind "ZT Coating" is applied, for tougher protection against chipping, often caused by bounced pebbles, and rust. With zero claim rate, against adhesion, out of 500,000 dampers sold, we are confident that people living in snowfall area or near seashores would even be very satisfied.
Highly Durable & Reliable!
Brackets for brake hoses and ABS sensor harnesses etc are exclusively designed for each vehicle model for hassle-free installation.
Shell case is made of high-strength steel STKM13C and solidly-constructed for firm handling and stable ride.
Smooth Ride Height Adjustment & One-of-A-Kind Adjusting Wrench!
FLEX A has adopted the new wrought aluminum spring seats and low-friction hard-resin thrust washers. These effectively reduces the friction with springs, caused during ride height adjustment, and makes it easier to adjust the ride height with pre-load on the springs.
Shell cases are treated with "ZT Coating", a superlow-friction fluorine resin coating, which is tightly baked onto the surface in-house. This special coating provides superior protection against rust and high lubricity, for keeping a smooth adjustment for a long period.
FLEX A kit includes one-of-a-kind user-friendly ride height adjusting wrench. It has a 12.7mm (1/2in) sq. hole for attaching spinner handle and/or torque wrench for tightening at high torque.
No-Sag Springs!
Included springs are made of high-tensile steel SAE9254 (tensile strength 200kgf/mm2 or over) and cold formed for excellent resistance to sagging and for superior quality stability.
Surface is powder coated for superb protection against chipping & peeling, for high durability and for superior anti-corrosion performance. High-quality spring can be used under various conditions without any worry. The most suitable shape of spring (straight or barrel-shaped) is determined for each vehicle model, to provide wide ride height adjustable range and to secure sufficient stroke without compromising ride comfort.
High-Spec Damper Oil
Specially-formulated high-spec oil exhibits stable viscosity characteristics at any temperature; from low to high, to allow shock absorbers to stroke smoothly and to generate damping force stably under various conditions. The oil has superior anti-foaming characteristics hence the bubble cavitation and/or thermal degradation hardly occurs, making it even suitable for tough sport driving. The oil also does not deteriorate much with age, making it possible to maintain and deliver superior performance for the long term.
NOTE: Carpet may need to be cut in the rear to avoid interference.
QUESTIONS & ANSWERS
No questions have been asked about this product.
Upload images for this product